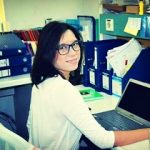 Position : Research Assistant
Qualifications :
- B.Sc. in Biotechnology (Atma Jaya Catholic University of Indonesia)
- M.Sc. in Molecular Bioscience (University of Sydney)
Profile :
Asha specialises in microbiome studies, using various bioinformatics tools and high-throughput sequencing technologies for metagenomic and metabarcoding analysis. She is particularly interested in the studies of obesity, type-2 diabetes, and metabolic disease. Her current research focused on the impact of lifestyle and nutritional transition on microbiome variations and how that relates to diversity in the human genome and microbiome.
Interests :
- Human diversity and lifestyle diseases
- Microbiome, diet, and disease interconnections
- Molecular pathology of human diseases
Awards :
- Short Presentation Award, 3rd Place, The 6th International Eijkman Conference, Indonesia (2017)
- Best Poster Presentation,1st Place, The 2nd International Microbial Biotechnology Conference, Indonesia (2016)
- Australia Awards Scholarship for Master of Science (2013 – 2016)
- Australia Leadership Awards (2014 - 2015)
- Outstanding Student, Australia Awards Pre-Departure Training Program for Post-Graduate Studies (2013)
- Research Fellowship in Molecular BioMedicine, Centro Study Fegato, Italy (2011)
Contact : clarissa.febinia@mrinstitute.org
Publications :
1. Association of FTO rs1421085 single nucleotide polymorphism with fat and fatty acid intake in Indonesian adults. BMC Res Notes 14, 411.
2. Distinctive Microbiome Type Distribution in a Young Adult Balinese Cohort May Reflect Environmental Changes Associated with Modernization.
Microbial Ecology, 1-13. doi:10.1007/s00248-021-01786-9.
3. Obesity in the Balinese is associated with FTO rs9939609 and rs1421085 single nucleotide polymorphisms. PeerJ 8, e8327.
4. Transcription factor 7-like 2 single nucleotide polymorphisms are associated with lipid profile in the Balinese. Molecular Biology Reports 45, 1135–1143.
5. The role of the gut microbiome in host systems. Microbiology Australia 36, 14–17.
6. Uncoupling protein 2 gene polymorphisms are associated with obesity. Cardiovascular Diabetology 11, 41..