MRIN and BRIN Joined Forces to Strengthen
The Archaeology and Paleogenomics Research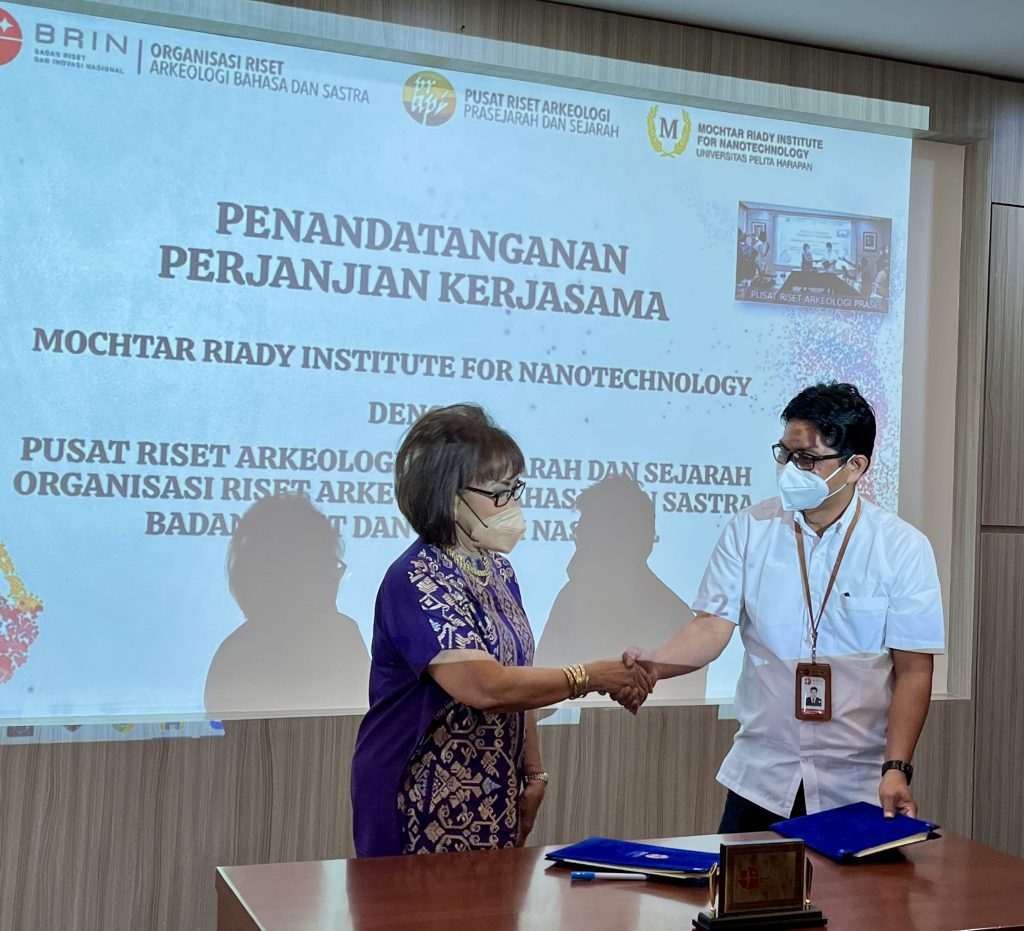 On Tuesday, August 2nd, 2022, Mochtar Riady Institute for Nanotechnology (MRIN) and Archaeological, Language, and Literature Research Organization of National Research and Innovation Agency (BRIN) signed an MoU and partnership agreement for archaeology and paleogenomics scientific research.
In his opening remarks, the head of the BRIN's Archaeological, Language and Literature Research Organization, Dr. Herry Jogaswara, M.A., hoped that this cooperation will improve scientific knowledge of archaeology in Indonesia and will continue to be sustainable in the future. He further stated that this agreement between MRIN and BRIN aims to develop and conduct collaborative research in the field of archaeology that focuses on paleogenomics analysis from the prehistoric human in Indonesia. The activities that will be carried out are research and studies in the field of ancient DNA analysis on the findings of prehistoric human teeth and skeletons in Sulawesi and Papua.

Herry Jogaswara also noted that the facilities and the technologies owned by MRIN and BRIN are sufficient to carry out the research. Especially BRIN's latest reformation has enabled the agency to advance its archaeological laboratories and push for more publications. They also planned exchange of expertise in genetics and archaeology, in the form of seminars and workshops. He believed that this collaboration is a very strategic one because it helps to introduce archaeology and paleogenomics to the public and eventually enhances Indonesia's study in the field of archaeology.
Meanwhile, MRIN's principal investigator, Prof. Herawati Sudoyo, M.D., M.S., Ph.D., hopes that the collaboration between MRIN and BRIN will be the kick off for archaeological and paleogenomics research. She explained that research in these fields is carried out to solve some unanswered questions regarding Indonesia's past history, among others, about the implication of past human migration with current population demographic in Indonesia. Paleogenomics, the genomic analysis of ancient human DNA, can shed a light on this question by reconstructing the early human habitation in Indonesia and comparing their DNA information with modern human DNA. Hopefully, Indonesians in general will benefit from this research collaboration, she concluded.